Aurora3D Maker is a versatile, easy-to-use, text and logo editor and creator that simplifies the generation of sophisticated static and moving images. The program does an amazingly fast and incredibly beautiful job of converting a selected image from one of three template libraries (text, logo, and button), creating a new image from scratch, or importing an image.
Within minutes a user can intuitively generate stunning three-dimensional objects, and then manipulate them using a wide variety of tools, colors, shapes, styles, bevels, designs, animations, and lighting effects.
The controls allow for a significant range of settings, ensuring that the user can make precise adjustments to most parameters. Export options include .BMP, .GIF, .JPG, .PNG, .TIFF, .TGA, and others. In addition to being a valuable productivity tool, Aurora3D Maker is fun to use. $49.95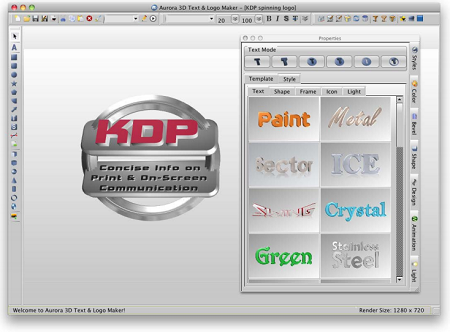 Aurora 3D Animation Maker redefines the process by which sophisticated on-screen animations can be produced, by making it easier and faster. The program's environment is intuitive and elegant, and provides a full range of tools and settings that empower the user to generate professional-looking video, Flash, GIF animation, and image sequence files.
The program provides more than 3000 symbols, dozens of professionally produced project templates, more than 60 TrueType fonts (plus access to any TrueType font installed on the computer), and more than 80 object styles. These elements supply the user with a vast array of digital assets that can be combined in an infinite variety of ways, producing highly customized output.
The workflow begins with the selection of a template from the library, or a blank project. The user then edits and refines their animation adding or deleting objects and symbols; editing the text; adding particle effects, such as flames, snow and fireworks; adding motion effects such as bounce and curve; and adjusting the orientation, color, bevel, lighting and other parameters of the text and graphic elements. Again, it is easy and fast.
The animation progression is controlled on a single timeline, which has settings for playback speed, animation length, adding and removing keyframes, and more. Users can preview their project immediately, with no time-consuming rendering necessary. $69.95